MDAN (Male Domestic Abuse Network) is the national community and information network for practitioners supporting male victims. This information portal has been developed by the ManKind Initiative charity in partnership with Hestia and UKSAYSNOMORE. The ManKind Initiative manages, funds and owns the portal and MDAN.
Since 2001, the ManKind Initiative has been supporting male victims of domestic abuse across the UK. A constant theme from services contacting the charity across the statutory sector (police, GPs, housing bodies, local councils) and third sector is that they are unaware of the range of services available to male victims at a national, regional and local level. This includes refuge / safe house vacancies and organisations providing services for male victims.
With the increasing number of men coming into contact with statutory authorities and service providers, it is vital that if they do not provide the direct support themselves, they know what organisations in their locality do.
The charity has been collating this information since 2012 in the form of a directory called the Oak Book which has been made available by email. This portal in effect is an online version and therefore makes it more widely available and accessible.
The organisations included are those providing "a tangible and explicit service that supports male victims". This can be services that support men and women at the same time, parallel, or separate services. The key thing is that they are clear they support men.
This portal has been developed with funding from the Home Office 2018/20 Male Victims of Domestic Abuse Fund.
The development of this portal has been in partnership with:

Hestia supports adults and children in times of crisis. We deliver services across London and the surrounding regions, as well as campaign and advocate nationally on the issues that affect the people we work with.
This includes victims of modern slavery, women and children who have experienced domestic abuse, young care leavers and older people. From giving someone a home, to helping them to get the right mental health support, we support people at the moment of crisis and enable them to build a life beyond a crisis. We are supported by more than 630 volunteers across London who provide specialist skills such as art therapy, yoga, IT, gardening and cooking, as well as befriending and fundraising.
We are proud to be the home of UK SAYS NO MORE, bringing together a diverse coalition of individuals, charities, businesses and public sector organisations to campaign for an end to domestic abuse and sexual violence.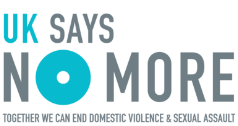 UK SAYS NO MORE is a national initiative to raise awareness to end domestic violence and sexual assault. The campaign is a partnership between London-based charity Hestia and NO MORE in the United States.
UK SAYS NO MORE seeks to raise public awareness of issues around domestic violence and sexual assault through digital campaigning; partnership building with non-profit, corporate, local authority and educational organisations across the UK, and developing a DASV Prevention Ambassadors Programme to engage with and inspire university students to become active bystanders and challenge the ideas, myths and ideas around gender which perpetuate these behaviours.

The ManKind Initiative was the first charity in Great Britain to support male victims of domestic abuse (registered in 2001). Since then, we have been at the forefront of providing services and support for male victims and campaigning to ensure that male victims and their children receive the support they need from other organisations.
Our aim is to ensure all male victims of domestic abuse (and their children) are supported to enable them to escape from the situation they are in. We are gender inclusive in our view so we want all female victims (and their children) to be safe too.
We provide a range of services directly to men such as a anonymous national helpline that any man, anywhere can call us. We also support others to provide services for men so we run a one day training course, a national conference and a directory of services. We also give male victims a public voice by campaigning for them, sitting on Government and other committees and giving presentations around the country.
The Copyright for the Male Domestic Abuse Network, this portal and the Oak Book is owned by The ManKind Initiative